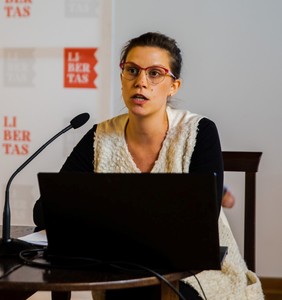 Romana (1989) grew up in Dubrovnik where she finished primary and secondary school. She graduated ethnology and anthropology at the Faculty of Humanities and Social Sciences in Zagreb and completed the Peace Studies program. With an interest in the area of political anthropology, anthropology of labor, humanitarianism and refugee studies she joined a PhD program in ethnology and cultural anthropology at the same faculty. She volunteered at the Centre for Peace Studies between 2013 and 2015 and conducted research on refugees' employability within the project "Quality steps for the integration of refugees" extending her advocacy for intercultural policies, economic emancipation and social inclusion. She continued to support social entrepreneurship and refugee emancipation by co-founding the cooperative Taste of Home.
She participated in many trainings, science conferences and held several public lectures about refugeeness and irregular migration focusing on security and humanitarian aspects of the asylum policy. From 2015 to 2018 she worked on child protection projects, first in the Winter Reception-Transit Centre in Slavonski Brod and later for the International Organization for Migration (IOM) by organizing support for unaccompanied children and capacity building workshops. Since July 2018 she has been working with the Institute for Ethnology and Folklore Research.
By working with migrants she continuously fought against discrimination of otherness knowing very well that life and work in Croatia for many people with "migration background" sometimes comes as an invincible challenge. This is why she decided to be part of the Taste of Home and contribute to the creation of an inclusive space that offers understanding, friendship and endless support to social and migrant entrepreneurship.