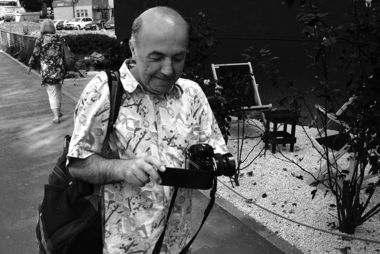 On Thursday from 18h in the Mediatheque of the French Institute in Zagreb. a discussion with a Bosnian photographer based in Paris Milomir Kovačević "Strašni" Photos of Home was held, organised by the Centre for Peace Studies
Kovačević described his first presented cycle of photographs "Gens una sumus", photos of chess players he met upon arriving to Paris in one of his many walks through the city. They reminded him of his past life in Sarajevo, after he joined in their game he got to know them better so he convinced them to do the photoshoot, which in the end lasted for over two years. His project involved 125 people of 70 nationalities, with different status: immigrants, people without papers, students... While looking at the players, Kovačević asked himself how come so many different people can live together in one city, while us who are much more similar to one another in this region, cannot create the same level of coexistence. The explanation for that he found in the nature of Paris itself – the city of lights and the city for all people; the order of France, and he admitted it may have something to do with chess - where it doesn't matter who you are and what you are, the only thing important is a passion to play and to win.
After that, his second cycle of photos - "Mes amies de Rumilly" was presented. It was created in a dorm for immigrants of different status and a number of people in transit. For one month he lived with them in the dorm, so he noticed how their relations and stories change when they were in groups, and when they would talk individually about their fates.
After describing life in Sarajevo as a photographer during the war, Kovačević talked about his experience of integration into French society, that he did through the bar, television and radio. After the culture shock at the beginning, the admitted it took him over 5 years to start feeling more comfortable in the country, and he described in short his life and work nowadays.
At the very end, Kovačević shared with us more of his photos: cycle Sarajevo in the heart of Paris, photos of Paris and the Louvre during night....
.Today as a continuation of Refugee Week from 14h we have an artistic – marathon action and concert "On the shores of Jarun: 1800 stones for 1800 missing at the Mediterranean sea", organised by Croatian Law Center, UNHCR and Legal Clinic of the University of Zagreb.