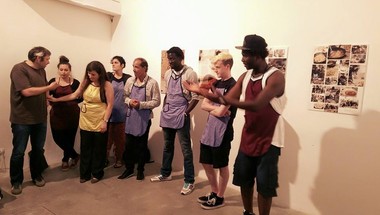 The Taste of Home collective presented their dishes yesterday, prepared together with the Food, not bombs collective; and also their cookbook and future plans to the big crowd gathered in Rijeka's Palach. Emina Bužinkić shortly presented the project, and then Sadou Diagne and David Ajobi described the dishes prepared for that evening: cous cous prepared in an Algerian style, red rice Senegalese style, and jollof rice following a Nigerian recipe with a local addition of Swiss chard.
The audience was thrilled with the food and the presented project.
"Taste of Home brings a great concept and a well executed idea. Tonight's food and exhibition via a pleasant presentation actually tell an uncomfortable story. Even though food should bring us together, with different socio-economical destabilising contexts, it is actually tearing us apart. Former colonial countries, from where that food is arriving, are being used by the West, once trough open, and now trough covert forms of new exploitation. The insecurities in those countries are beneficial for the West, whose corporations are taking profit there while regular people are dying or arriving to the West and becoming asylum seekers. This campaign is raising awareness about the problems refugees face in their countries, but also in Croatia and Europe, where the question of integration remains the hot topic. This campaign also raises questions like what is really food for us, as we realise the ingredients at our plates are coming from everywhere, and that dishes we eat everyday are telling a policentric, and not a monocentric story nowadays", Antonio Kiselić shared his interesting insight.
"I just heard about Taste of Home tonight, but I can conclude right away that it is a valuable project, and we need more of projects like it. In recent times, the question of asylum seekers became very important, but some are still trying to marginalise it because of some other issues. I believe the value of the state reflects in its relationship with those who are marginalised; not those that have different social privileges, and that's why this project is a good reminder that we are all human and we all eat. They say love comes through the stomach, and that may be the message of tonight's event. It is also interesting to point out that some of the people involved in this project lost a lot, but show much more initiative than some of our own people who have much more, but complain all the time", Zoltan Lečei, one of the guests stated.
Two friends, Marija Šepac and Maša Cvek, also joined in the praises. "It is beautiful to see this kind of projects exist, because through them you can learn a lot about different cultures, traditions, dishes; and also about how to help those that need it. The food tonight is phenomenal", said Marija. "This is a great opportunity for the possibilities of employing refugees, and I wish you all the luck in starting a catering service, that will have great food and chefs", Maša added.
"This is a great initiative and the food tonight is excellent. I have already collected all the recipes of tonight's dishes and I took one cookbook. It is important to work on the opening of all sorts of borders, and not to contribute to further restrictions", Marinella Matejčić concluded at the end.
Besides Taste of Home exhibition in Rijeka, today Jesuite Refugee Service organised a discussion "This is just the beginning of a new life", Moving in - first step of integration, in the library Bogdan Ogrizović from 13h, and the Society for psychological help organised a discussion for students "Psychological support for refugees - a lecture for helpers and translators" at the Faculty of Humanities and Social Sciences.

On Thursday we have a discussion with a Bosnian photographer based in Paris Milomir Kovačević "Strašni" Photos of Home, organised by the Centre for Peace Studies from 18h in the Médiathèque of the French Institute in Zagreb.