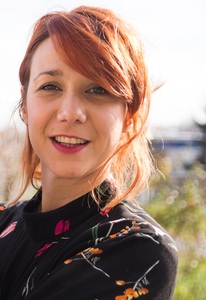 I was born in Zagreb in 1982 but moved with my mother to Bosnia to live with grandparents until I was 9 years old. We came back to Zagreb as refugees during the 90's war, with my little sister who just turned 2 years old at the time. We had nothing except our mother who struggled hard to provide us with the basic conditions for life, a roof over our heads and food at our table. It was very hard, especially the struggle with the system and shift from being a refugee to getting the citizenship. I was the only one who obtained it in 2008 but my mother and my sister are still in the processes of residence regulation and living on the margins. So, after 27 years my small family is still suffering the consequences of being refugees and the system which is very strict towards accepting foreigners. Today I live with my own daughter, 6 years old smart bundle of curiosity and energy who is my inspiration and additional motivation for fighting for a better world.
I have finished high school of economy and have MA in protestant theology obtained at "Matthias Flacius Illyricus" in Zagreb. 5-year studies at Flacius have provided me with precious experience and understanding of humanistic and ecumenic worldview and has taught me to think critically about the world around me. I applied to the university of Chicago to continue with the studies and got accepted but destiny took me to another direction so I found my way in Center for Peace Studies where I finished the programme "Peace studies". This program has fit my personality perfectly and it was an eye-opener regarding the civil society, human rights and safety, gender equality and migrations and asylum. I first heard about Taste of Home there and I instantly fell in love with the story and started volunteering. Of course, I could empathize with people who are in search for their place under the sun, with my personal history of being a refugee and years long time spend in the institutions claiming my right to become an equal citizen who is building her life in Croatia.
My contribution in Taste of Home is natural, organic and honest and now it's in the stage where I'm the Governor of the Coop. I am working daily on the mission and vision of Taste of Home and I am honored to be a part of it and give my contribution.
The fellowship present in Taste of Home for me is something extraordinary. We share ups and downs and deeply respect each other as humans, regardless of the race, religion, culture, and nationality. A lot of love is there and I deeply believe that love and respect are the best recipes for success, on professional, business level as well as on personal one.