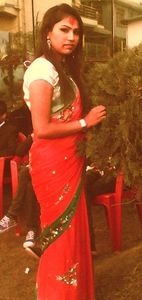 I was born in 1996 in Kathmandu, the capital of ´a thousand mountain country´ – Nepal. I belong to the Brahmina population. I grew up in Kathmandu with my parents and a younger brother and a sister. After completing high school in my hometown, I enrolled in College for Economy and Marketing, but, as I followed my way to Croatia, I never completed the program.
I volunteered with Amnesty International in Kathmandu, which gave me the experience of activism and deepened my sense of human rights. Additionally, I worked in a Buddhist thangka (hand-made textile paintings) store in Boudhanath, close to the famous Boudha Stupa declared as UNESCO World Heritage.
Not long after that, my life fortune brought me to Croatia. At first, I was afraid not knowing if I could find a job and fit into a new place, different culture and surroundings, and far away from home. Friendships with wonderful people brought me to Taste of Home. As I volunteered at first, I liked the story of Taste of Home and the people dedicated to the idea. I feel accepted by the entire team and I can openly share my happiness and tears with them.
Such a special mission of Taste of Home gives me a chance to develop myself in both, professional, culinary way, and the one more important, humane way. When sharing and cooking traditional Nepalese recipes I feel like I found a home in my new home and I´m very proud to be a part of the Taste of Home.
In Taste of Home, I work as a cook of delicious meals from Nepalese-Indian tradition.