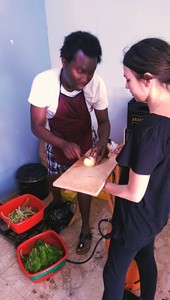 Taste of Home collective is currently in Palach where they are working hard with Food not bombs collective in preparing dishes that will be served at tonight's tasting and exhibition opening in Palach Gallery at 20.30h.
"I am here as part of Food not bombs collective and I'm enjoying the culinary exchange, I am very happy I will get a chance to try African dishes tonight. The cooking crew is great, and the chefs are very serious and dedicated to food preparation. The idea of including refugees in this kind of project is amazing, as it provides them an opportunity to be active and do something", Tamara Eskić describes her experience.
David Ajobi, a member of Taste of Home collective, stated that he's enjoying the workshop and that the whole team of cooks is great. "I am looking forward to the tasting and the exhibition – then the real party will start", David said. He shared with us a recipe of his version of jollof rice he is currently preparing:
Ingredients (for 4 people):
2 cups of rice
¼ of peanut oil (or olive oil)
3 spoons of pasteurised tomato
1 onion
2-3 cloves of garlic
2-3 cups of chopped Swiss chard
a teaspoon of dried thyme/2 tsp of fresh
a pinch of curry
salt
Vegeta
Preparation:
1. Put the rice to cook for 20 min, then take it off the flame.
2. Heat up the oil and then fry the onion and garlic until they are golden-brown. Add the tomato paste, the spices and Swiss chard. Leave to cook for the next 20 min.
3. Add rice to the sauce and leave it to cook for an additional 15-20 min.