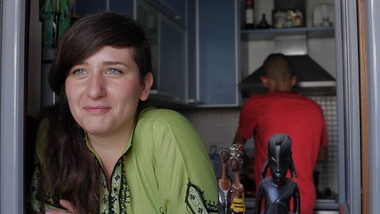 In the past 20 years thousands of migrants have lost their lives trying to reach Europe. Some of them found themselves in Croatia. How much do we understand them, how much do they understand us? Is food a language that we all speak and that might make us start accepting each other?
Up until 2014 a little under 5000 foreigners from different parts of the world applied for asylum in Croatia. So far only 131 asylums have been granted. The documentary film Taste of Home about these people and their experiences speaks through stories of three protagonists: Emina, who converts her assistance to refugees into a gastronomy project, asylum seeker and cook Reda who is in Porin awaiting news about his fate and 22-year old Sandra who, after escaping Syria, is trying to find her place in the sun.
The film Taste of Home is produced by Fade In in cooperation with the Center for Peace Studies as part of the project "Quality integration solutions for refugees" financed by the European Union and Croatia's government Office for Cooperation with NGOs.
Written and directed by: Martina Globočnik
Original idea by: Martina Globočnik, Emina Bužinkić
Producers: Morana Komljenović, Emina Bužinkić
Executive producer: Vilka Alfier
Asistant director: Antina Bratić
Lead cinematographer: Iva Kraljević
Cinematographers: Bojan Mrđenović, Morana Komljenović, Dražen Žerjav
Sound recordists: Tonči Tafra, Hrvoje Golubić
Editor: Marija Prusina
Image processing and colour correction: Iva Kraljević
Sound design and mixing: Tonči Tafra
Foley artist: Khalifa Faye
Composer and performer of the score "Taste of home": Stanislav Kovačić
Music selection: Marija Prusina
Production: Fade In in collaboration with CMS, 2015.