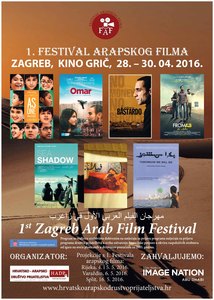 As we announced, we supported the 1st Arab Film Festival in Zagreb. Besides the traditional refreshments of arab origin that our chefs served to organizers and visitors of the Festival, we also participated in the discussion themed:"The promotion of the Arab culture in European union in the context of the refugee crisis and the threat of terrorism".
In the context of one of the largest refugee crisis in the history, which is counting around 60 milions displaced persons in the world, it is quite difficult to be optimistic regarding the consequences of this crisis and the development of interculturalism. It is hard because we are witnessing the growth of right-wing populist movement and parties and anti-immigration policies in Europe. The international community, and the whole world in general, doesn't seem to try it's best to stop the wars and build and preserve the peace. Seems like political interests are of greater importance than human lives, safety and human dignity. The xenophobic sentiment is arising, racism and ignorance build walls between countries and the refugees who are fleeing war and poverty.
That is why it is very important to have initiatives who fight against discrimination based on race, ethnicity, color of skin and who deal with the refugees rights and their integration into societies. We believe that this Festival is aiming in that direction and we hope it will have more visitors, more movies and more space for dialog in the future ahead. In the Taste of Home cooperative we promote interculturalism as the tools for changes in this world, the changes of the conscience and the reality. We believe that interculturalism is not only cultures existing one besides the other, rather it represents their communication, exchange of values, acceptance of different ways of behaviour and belief systems. In that case we will be talking about cultural enrichment instead of culture-clashing.