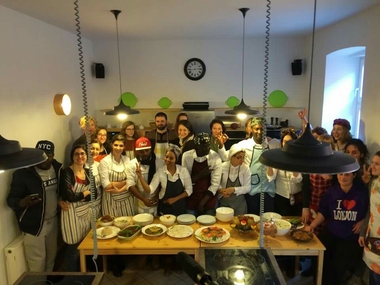 Today the Taste of Home's chefs have shared their recipes with some of the great people who donated to our recent crowdfunding campaign. This workshop was one of the perks of our campaign. It started with introducing chefs and participants, conversations and than we were of to the exciting adventure of discovering egzotic scents and tastes of Ethiopia, Senegal, Nigeria, Pakistan, Libia and Syria. Step by step, our chefs have been showing the way to prepare the specialties from their countries and their students have been truly attentive about every detail, without hiding their big apetite to finally taste these creative and unusual delicacies. Ana Jokić, one of the participants, shared her excitement to find herself beside our cook Chichi Amare from Ethiopia where the food is considerably spicier than the one we are used to.
"I love spicy food so I really like this dish!"- she told us.
One the other hand Chichi has revealed us her little secret: she has adjusted her recipe to be less hot because she thinks that still our palates aren't ready for Ethiopia kind of hot. Participants Lea Kušćer, Branko Kolesarić and Danijela Bota have commented the atmosphere on the workshop the most, among other things, saying that it has made quite a big impression on them.
"The openness of our mentors and the chance to talk to them in a friendly tone is something that we will surely carry with us!" –they said.
Also Lea has wished us good luck woth our future plans, the beginning of our social cooperative work and added:
"As I see, you are doing something that can be truly called qualitative integration of migrants in our society. I am not familiar with anything like this project, at least not at this level. Definitively I will share your story and I hope to join Taste of Home again in events like this."
Lea Kušćer usually volunteers in ACT (Autonomous Center) from Čakovec, an NGO which has supported Taste of Home in getting one part of the neccesary equipment for our kitchen. Here we use this opportunity to thank them once again.
Our perk workshop has resulted with a dozen of delicious dishes and many new friendships. After final degustation, sharing the meals, our cooks have made sure to spice the atmosphere some more by playing djembe. The female part of our team was especially fun showing their talent also for drumming. We have continued to hang out till the evening, satisfied, full of impressions and planning for our future activities.