Karahi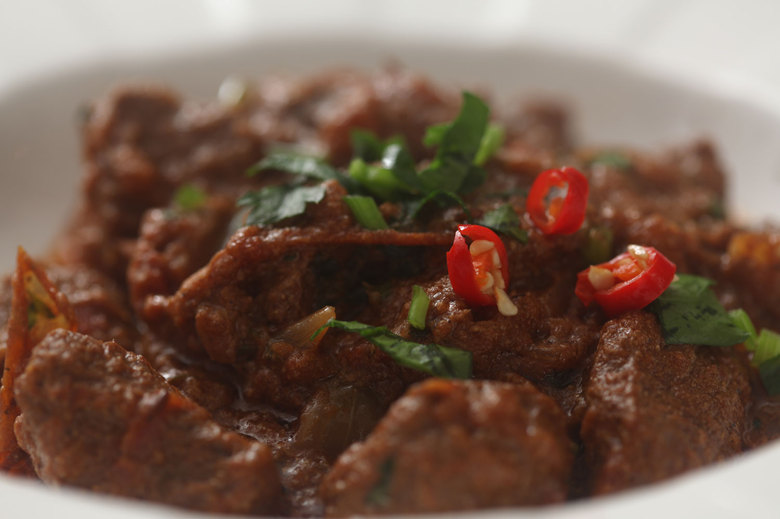 Famous street food from Pakistan.
preparation
Boil goat meat cut into medium-sized pieces in 3 cups of water.

Add 1 teaspoon of grated ginger and garlic, some salt and pepper and bay leaf.

Cook over high heat until the meat is tender, about 30 minutes. Remove the meat and set it aside.

Strain the water in which the meat was cooked (stock).

In a small saucepan sauté chopped onion over two tablespoons of soy oil until it takes the structure of the purée and golden colour.

In a slightly larger pan put the remaining two tablespoons of oil, add a teaspoon of grated ginger and garlic and heat them over low heat.

Add pieces of goat meat, two tablespoons of mashed onion, chopped tomatoes, a quarter of the stock, yoghurt, chili powder, coriander, half a teaspoon of Himalayan salt and pepper.

Mix the ingredients over medium heat. Cook for 10-15 minutes. Cover and allow to simmer.

Add the butter and remove from heat.

Sprinkle with green cardamom. Decorate with chopped ginger, coriander and green or red peppers.
Ingreedients:
250 g

goat meat

2 tablespoons

grated ginger and garlic

2

bay leaves

1

onion

4 tablespoons

soy oil

3

tomatoes

2 tablespoons

yoghurt

½ teaspoon

chili powder

¼ teaspoon

coriander

1 teaspoon

butter

Himalayan salt

black peppercorns

crushed green cardamom, for sprinkling

ginger, thinly sliced for garnish

fresh coriander leaves for garnish

red or green peppers, thinly sliced for garnish