Traditional couscous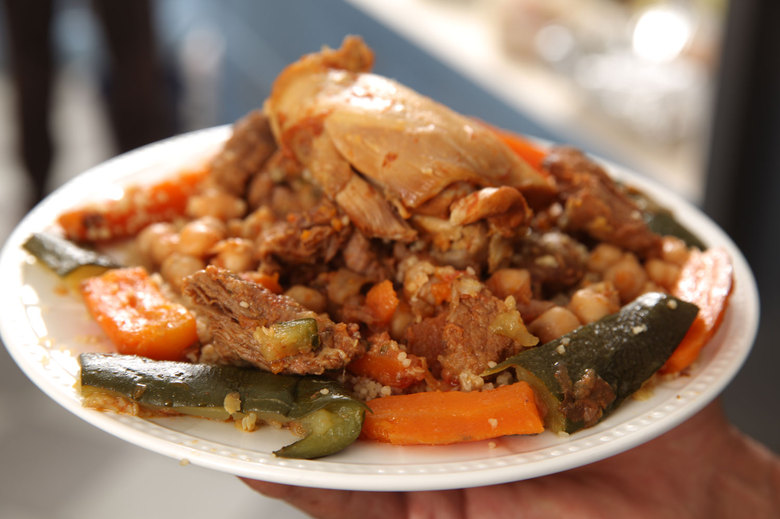 This dish is one of the most famous dishes in the North African region.
preparation
Put finely chopped onion and garlic into a deep pot with thick bottom or a pressure cooker, together with chunks of meat and some olive oil. Sauté over a low flame. Chop the carrot, parsnip and zucchini into wedges.

Cut potato in quarters and roughly chop the turnip.

Cut celery into wedges, same size as the carrot earlier.

Add the vegetables to the meat in a pot with half a litter of water and increase the flame.

Add half a teaspoon of salt and pepper. If you wish, add the chili pepper.

Cook 40 minutes in the regular pot or 20 minutes in the pressure cooker.

Add tomato, chickpeas and dried mint.

Add another half a litre of water.

Put 250 g of couscous into a large bowl. Add the remaining water and salt, plus half a spoon of oil. Mix it with your hands. Cook for an additional 30 minutes (about 20 minutes in the pressure cooker).

Put the couscous into a steam cooker. After the steam starts coming out of couscous, cook for another 10 minutes. After that, mix it with hands, previously cooling them under the cold water. Put the couscous back on the steam cooker and repeat the sequence two more times.

Add the butter and margarine and stir. Serve couscous piled in pyramid shape on a large platter. Put the meat in the middle and the vegetables around.
Ingreedients:
4 chunks

lean lamb or chicken meat with or without bones

½

large onion

½

cloves of garlic

1

medium size carrot

1

medium size zucchini

1

large potato

1/8

turnip

½

parsnip

1 stick

celery

½ cup

dried chickpeas

½ teaspoon

pepper

1 teaspoon

salt

½

pinch dried mint

¼ spoon

sunflower or other vegetable oil

½ cup

tomato preserve

¾ l

water

250 g

couscous

½ spoon

butter

¾ spoon

margarine

½ glass

water

½ spoon

olive oil