Tagine with lamb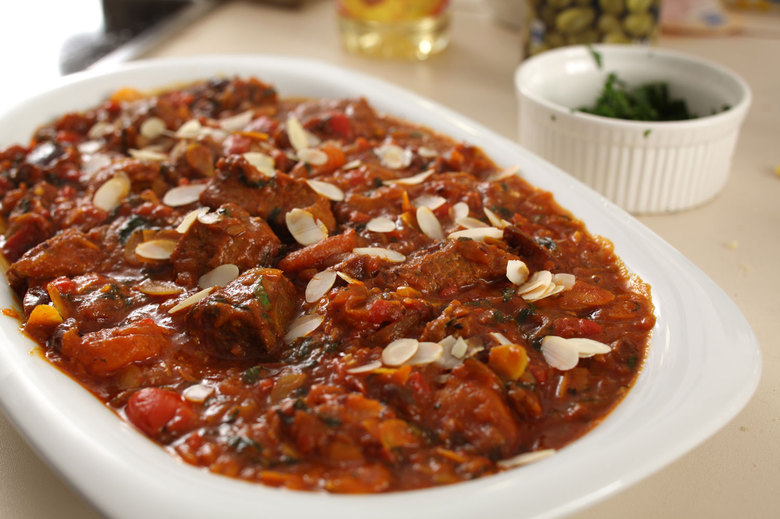 An aromatic main dish with lamb and spices.
preparation
Mix cayenne pepper, black pepper, red paprika, ginger, turmeric and cinnamon in a small bowl.

Place the lamb pieces in a large bowl and sprinkle it with half of the spice mix. Cover and leave overnight in the refrigerator.

Heat 1 teaspoon of olive oil and 1 teaspoon of Argan oil in a large frying pan.

Add grated onion and the rest of the spice mixture and simmer for 10 minutes, until the onion softens, but doesn't start to colour.

Add crushed garlic for the last 3 minutes.

In a separate pan, heat the remaining oil and fry the pieces of meat until brown. After that, place them in a tagine (clay pot) or cooking pot.

In the pan with the remaining oil from frying the meat add a quarter of a bottle of tomato juice, and then pour it all in tagine or pot.

Add the rest of tomato juice, chopped tomatoes, chopped apricots, dates, raisins, almond flakes and honey.

Cook until boiling, then cover with a lid.

Simmer gently for two hours until the meat is completely tender.

Serve food in a clean tagine or a big plate. Sprinkle with parsley and coriander.