Surbiyaan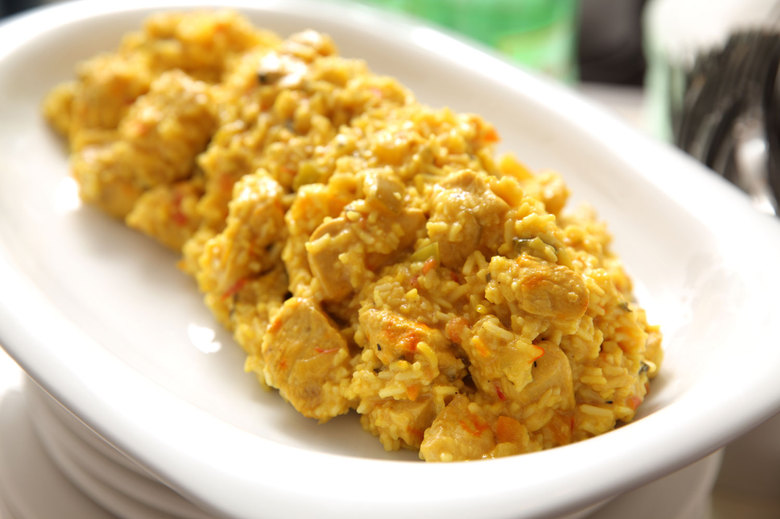 Traditional Somali risotto with chicken, vegetables and spices.
preparation
Clean and soak the rice in the water. Let it stand for 30 minutes.

Fry the chicken until brown, add cardamom, cinnamon sticks, cloves and peppercorns. Add the onion and when it turnes brown add garlic and tomatoes. Add the yoghurt when the tomatoes are softened.

Then stir while adding squeezed lemon juice, cumin, ginger, fresh and powdered coriander and paprika. Bring to boil over medium heat, then reduce the heat and cook for another 10-15 minutes.

In another pan heat the water. When it boils, add rice and cook until rice is half cooked.

Drain the rice and add it to the pan with the chicken.

Cook all together over medium temperature until the rice is tender. Serve and garnish.

Heat the oil over medium heat. Add the onion and fry until golden brown.

Add raisins and cook until they inflate.

Arrange the mixture on top of the rice.
Ingreedients:
6 pieces

chicken

6 cups

basmati rice

5

flat bean pods, crushed

2

black cardamoms

2

cinnamon sticks

5

peppercorns

1

onion, chopped

3

cloves

2 teaspoons

cumin powder

2 teaspoons

ginger powder

2 teaspoons

coriander powder

1 teaspoon

red paprika

2 teaspoons

fresh coriander, chopped

2 cloves

garlic, chopped

1 cup

yoghurt

1/3

lemon (juice)

2

medium-sized tomatoes, chopped

3 tablespoons

oil

½ cup

raisins

1

onion, chopped