Pap and nyma ye huku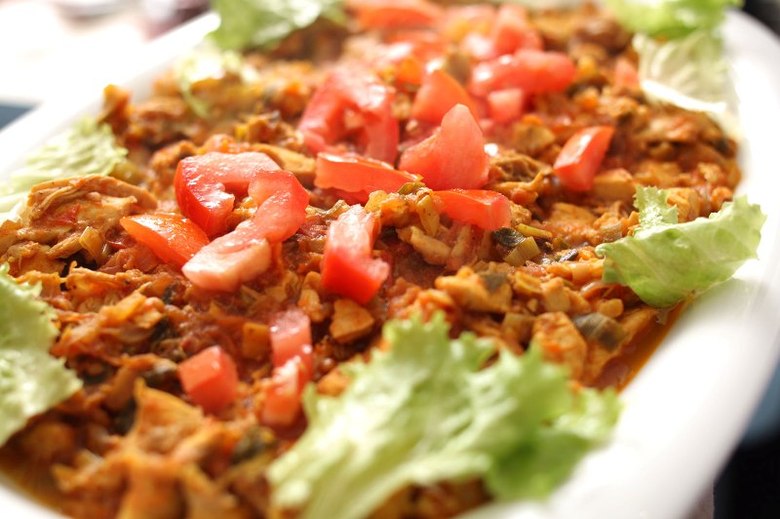 Zimbabwean maize porridge with meat.
preparation
Boil 700 ml of water in a large pot and add 300 g of maize porridge with the remaining water.

As you add water and maize porridge, stir the mixture with a wooden spoon.

Reduce heat and cook for 5 minutes, adding the remaining maize porridge.

When the mixture becomes firm and it starts to peel off from the pan, transfer it to a serving plate and press with a wooden spoon to form a sphere or other shape as desired.

Start the goulash with the preparation of tomato sauce. Line a deeper pan with olive oil and heat on a high flame.

Sauté ginger for 30 seconds. Add the onion and continue to fry.

Add crushed chili pepper and chili powder so that the onion turns red.

Continue to fry while adding black pepper and salt. Add dry parsley to the pan.

Turn up the heat and slowly add small amounts of sliced tomatoes making sure that the mixture in the pan is boiling all the time.

When you have added all the tomato, making sure that the mixture is boiling, reduce the heat to medium power and allow to cook for about ten minutes.

Add some more chili powder and stir.

After 5 minutes, reduce the heat and cook for another 15 minutes, stirring and crushing tomatoes.

Turn off the heat and cover the pan.

Heat the oil to the maximum in a frying pan, then add pieces of chicken and fry until they become brownish.

When done, add the pieces of chicken into tomato sauce and cook on the lowest temperature for 30 minutes, stirring occasionally.

Pour the chicken stew - nyma ye huku - over the maize porridge.
Ingreedients:
460 g

maize porridge

1 l

water

900 g

boneless chicken breast or fine beef cut into pieces

1,5 kg

chopped tomatoes

1 bunch

spring onions, chopped

2

medium-sized onions, chopped into small pieces

a small piece of ginger root, peeled and finely sliced

crushed chilli pepper

1 spoon

black pepper

1 spoon

chili powder

1 spoon

salt

½ spoon

dried parsley

olive oil