Couscous with watermelon or muskmelon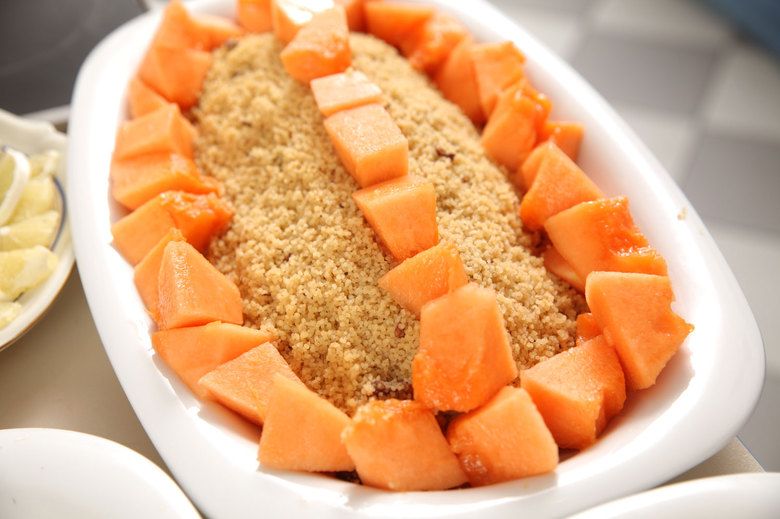 A traditional North-African family dish, usually prepared on Fridays.
preparation
Couscous is made in a special way. Use whole grain semolina that takes longer time to prepare. Couscous is steamed in a special two-part vessel (couscoussière, but a colander and a stockpot can be used instead) for about 45 minutes, with the addition of butter or olive oil.

Fluff it with your hands and then put it back on the steam for 30 minutes.

Then again fluff with your hands, with the addition of butter, raisins and salt to taste. Leave it on the steam briefly and then let it cool down to room temperature.

During this time boil chunks of watermelon or cantaloupe for 15 minutes over low heat.

Couscous is served while it's still warm, on a large round or oval platter, most often shaped in the form of a pyramid.

Pour over the water in which you cooked watermelon or cantaloupe. Place pieces of watermelon or cantaloupe at the top and/or on a side. Fruit can also be served separately.

You can sprinkle the cumin powder for garnish and to improve the taste.
Ingreedients:
2 kg

couscous

125-250 g butter or 2 dl olive oil

water

watermelon or cantaloupe cut into pieces

salt

cumin