Cassava with meat side dish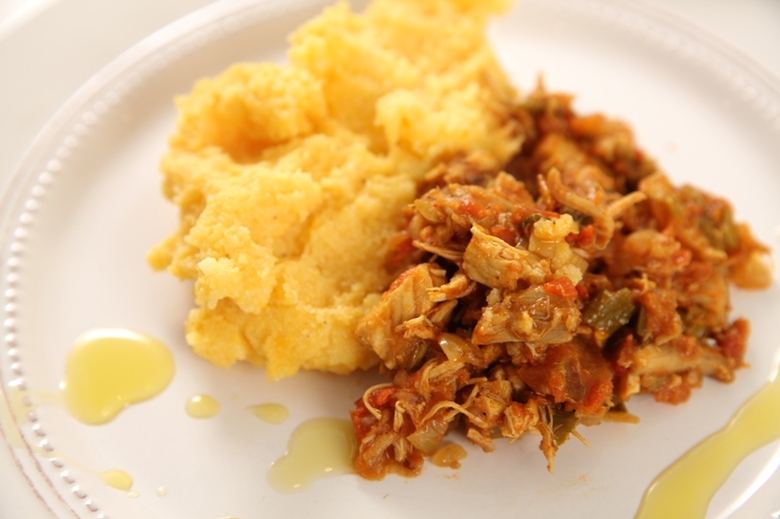 This combination of fish and beef meet is a traditional dish in DR Congo.
preparation
Clean the fish and cut it into three equal parts.

Boil the fish in the water with beef for about 20 minutes. Add chopped onion and salt.

Put the oil into the second pot. When oil heats up add the onion and sauté until golden yellow.

Add okra, cleaned and chopped into smaller pieces.

After 5 minutes, add the stock, salt and a bit of hot pepper. Stir and allow to simmer for 10 minutes, then add the beef, stir and let it cook until the meat is tender.

After that, add the fish and cook for another 10 minutes. Remove from heat and serve with mashed cassava.

Preheat a litre of water on the fire. When it boils, take half of it into another bowl.

Keep slowly adding 400 g of cassava flour and stir with a wooden spoon.

Alternately add the remaining water and flour, while stirring.

Remove from heat and serve.
Ingreedients:

9

Number of persons:

Non-available ingredients
Glavno jelo
Complexity: Srednje teško

Author:

Izbjeglica
This recipe has been published in the cookbook Taste of Home.
Ingreedients:
1

medium-size fish

250 g

beef, cut into pieces

2

onions

200 g

okra

stock or stock cube

1 teaspoon

salt

1 teaspoon

hot paprika

pinch of

curry

500 g

cassava flour