Afghan pulao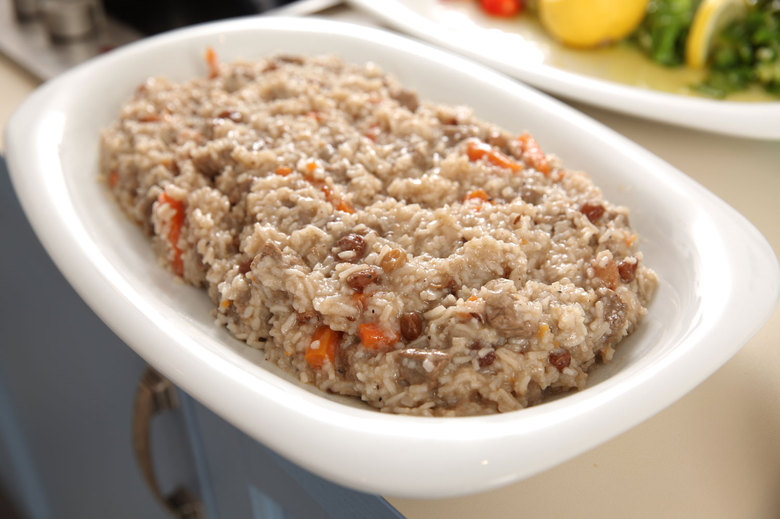 Pulao is a traditional dish often prepared in Afghanistan, Pakistan and other surrounding countries. It is prepared almost daily for family lunches.
preparation
Heat the oil in a cooking pot until it heats up, add finely chopped onion and sauté until golden yellow.

Add the meat cut into cubes and fry until it becomes brown, then add salt and cloves and cook all together until tender.

Add the carrots cut into sticks and enough water to cover the ingredients. Cook for further 20 to 30 minutes.

Clean the rice and rinse it with water three times while stirring by hand.

Pour the boiling water over the rice in a bowl and let it stand for half an hour, until slightly swollen and tender.

Make a hole in the middle of the rice for the meat and carrots from the other pot and cover them with rice that is around.

Gently stir this mixture and make holes for the air with a spoon.

Add rinsed raisins.

Put all together in a covered casserole on a very low flame and cook for about half an hour.

Serve in a large bowl.
Ingreedients:

10

Number of persons:

Za 6 osoba
Non-available ingredients
Glavno jelo
Complexity: Jednostavno

Author:

Najib
This recipe has been published in the cookbook Taste of Home.
Ingreedients:
1 kg

basmati or Afghan rice

½ kg

veal (can be replaced by chicken, beef or other meat)

3

onions

1 teaspoon

cumin seeds

1 teaspoon

cloves

1 teaspoon

black peppercorns

4

medium-sized carrots

1 cup

raisins

½ cup

oil

salt